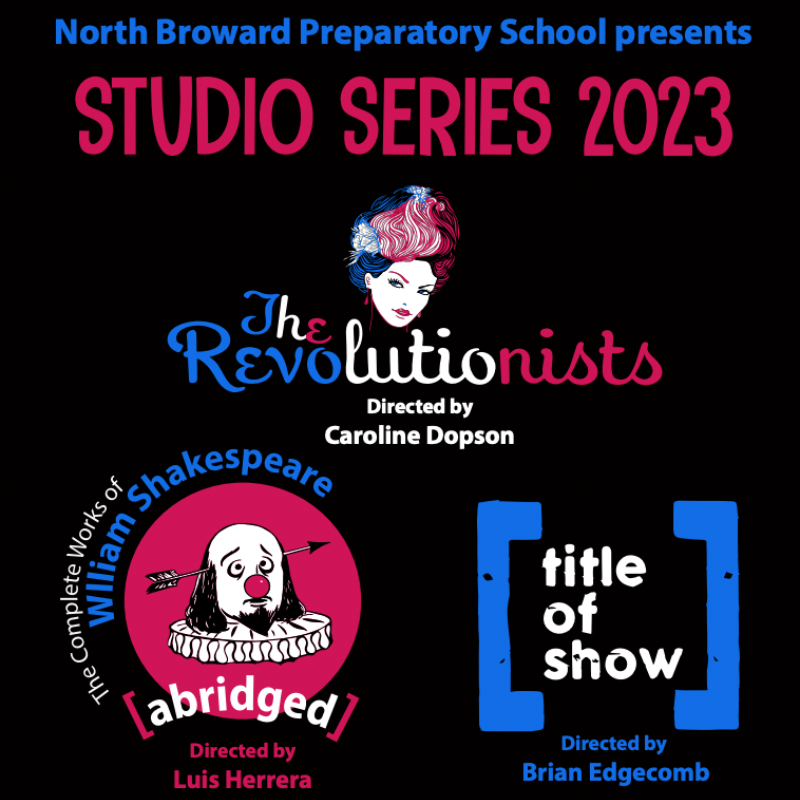 North Broward Preparatory School presents: The Studio Series 2023
North Broward Preparatory School presents:
THE STUDIO SERIES 2023
WEDNESDAY, FEBRUARY 22ND @ 7PM
SATURDAY, FEBRUARY 25TH @ 7PM
The Revolutionists by Lauren Gundersen
Four beautiful, bold women lose their heads in this irreverent, girl-powered comedy
set during the French Revolution's Reign of Terror. Playwright Olympe de Gouges,
assassin Charlotte Corday, former queen (and fan of ribbons) Marie Antoinette, and
Haitian rebel Marianne Angelle hang out, murder Marat, and try to beat back the
extremist insanity in 1793 Paris.
———————————————————————————————-
THURSDAY, FEBRUARY 23RD @ 7PM
SATURDAY, FEBRUARY 25TH @ 1PM
The Complete Work of William Shakespeare (Abridged)
By Adam Long, Daniel Singer, and Jess Winfield
How on earth can three actors do the impossible: act through Shakespeare's entire
canon –37 plays– in 97 minutes? By summarizing the canon through football
games, rap songs, and outrageously condensed, comedy mash-ups of course!
———————————————————————————————
FRIDAY, FEBRUARY 24TH @ 7PM
SATURDAY, FEBRUARY 25TH @ 4PM
[title of show] (clean version)
Music and Lyrics by Jeff Bowen
Jeff and Hunter, two struggling writers, hear about a new musical theatre festival.
However, the deadline for submissions is a mere three weeks away. With nothing to
lose, the pair decides to try to create something new with the help of their friends
Susan, Heidi and Larry on the eighty-eights.
TICKETS COSTS: $15/ADULT
$12/STUDENT/SENIOR
Tickets: $15