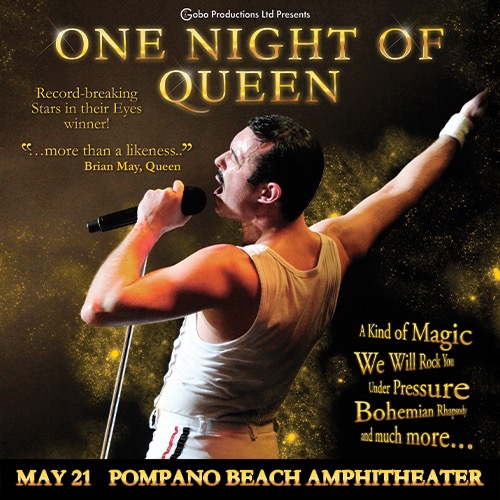 One Night Of Queen: Performed By Gary Mullen and The Works in Coordination with The Pompano Amphitheater
‼️ VENUE CHANGE ALERT ‼️ Due to higher-than-expected demand, One Night of Queen show on 5/21/23 is being moved to Pompano Beach Amphitheater. Visit our website www.thestudioatmiznerpark.com for tickets. Tickets go on sale tomorrow 4/20!
One Night of Queen is a touring 2-hour stage show, paying tribute to the stage theatrics and music of Queen.
It is performed by Gary Mullen & The Works, a band headed by Freddie Mercury imitator Gary Mullen, who had previously won the talent show Stars in Their Eyes with his vocal and visual imitation of Mercury.
The other members of the band are David Brockett on guitar, Jon Halliwell on drums and Malcolm Gentles on keyboards.
The band will make a stop in Boca Raton at The Studio at Mizner Park on May 21 for one night only!
Show is at 7:30pm, tickets $89/$75 plus taxes and fees